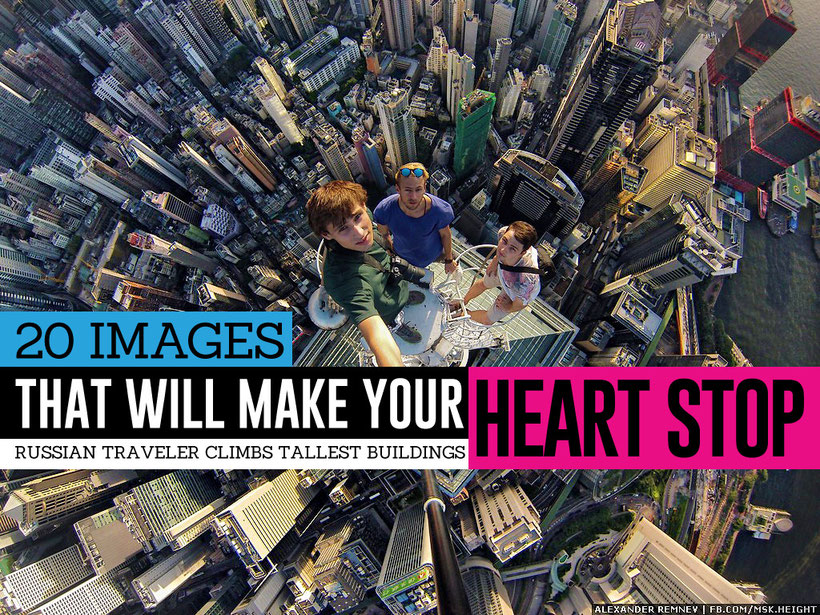 I feel sick. My hands are getting wet and my stomach just dropped while I was watching a video of Alexander Remnev, showing him on top of a skyscraper and taking selfies in daring positions. Within days, the images of the Russian guy went viral. Who is this crazy daredevil?
Alexander Remnev is a nineteen-years-old guy from Moscow. He has been climbing on rooftoops since the tender age of 14. The photographer traveled to Hong Kong, Paris, Barcelona, and Dubai… just to find tall buildings and make his way up to the roofs of these skyscrapers.
I started following Alexander on Facebook since I saw the first images of him a couple of months ago. My heart skipped a beat, every time he posted a new image from an incredibly high altitude. His photos and videos are amazing and frightening at the same time. Definitely nothing for the faint hearted.
I emailed Alexander, telling him that I want to feature his images on my blog. He replied in no time, telling me that he has managed to gain access to many rooftops around the world. And he is still not done.
The daredevil wants to travel to Sydney, Singapore, Bangkok and the US to continue his passion for skywalking and photography… I wonder if his mom is on Facebook…
Btw, if you are over 80, you might want to leave this website now, I don't want you to get overly excited. Let's get started!! Are you sitting in a comfortable position? Maybe you should hold on to your chair…
Here are 20 terrifying images from the top of the tallest skyscrapers… 
Please do not replicate any of those stunts. Climbing on top of a skyscraper is extremely risky and dangerous for your life!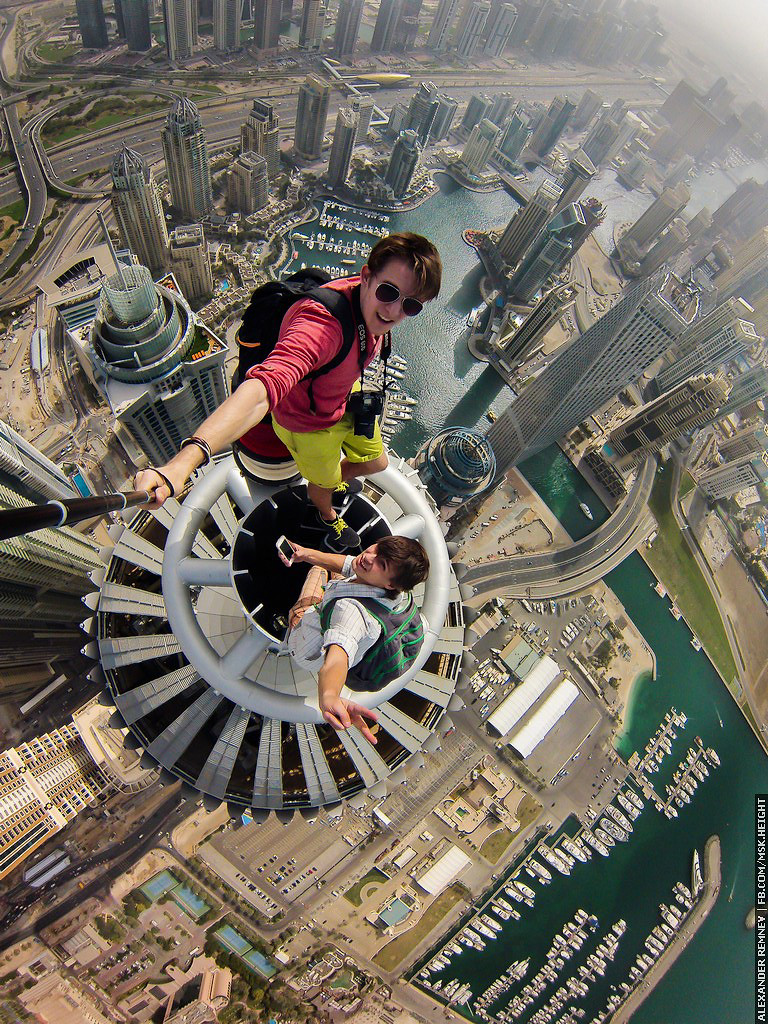 Alexander traveled with friends to Dubai to scale several skyscrapers in the city. The image above shows him with a friend on top of the Princess Tower, the world's tallest residential building. The tower is a 101 storey and 414m (1,350 ft.) tall.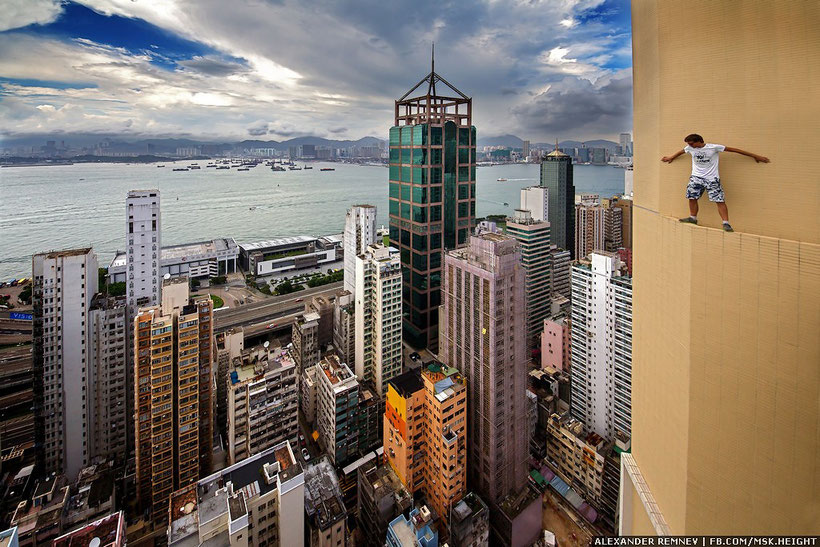 Rooftopper Alexander in Hong Kong, balancing along a skyscraper without ropes or any safety gear.
Scared of high altitudes? I doubt it.
"Over the years, I lost my fear of heights"

he says.
Mustang Wanted, another popular skywalker and friend of Alexander is hanging on the edge of the Moscow Brigde in Kiev, Ukraine.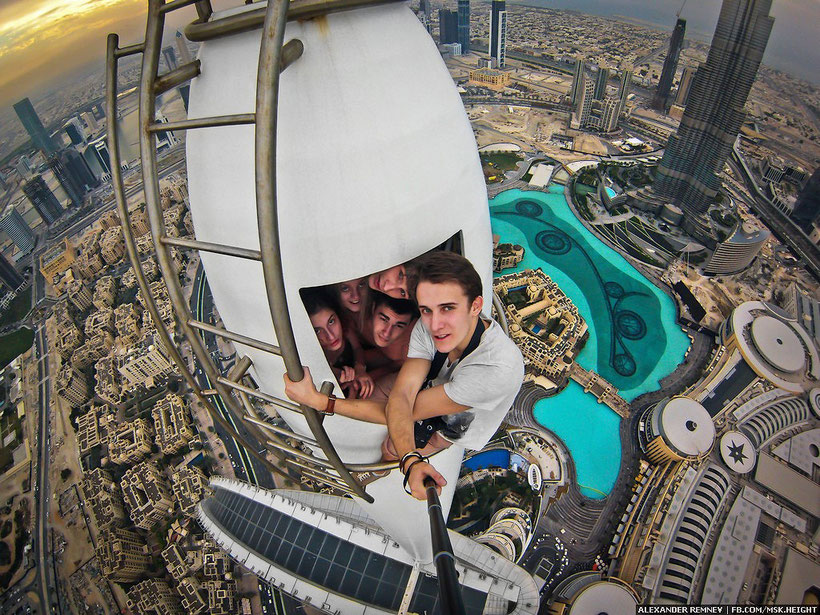 Just by looking at this, my palms get sweaty. Alexander climbed with friends to the top of the Address Hotel in Dubai… The thrill-seeking teenager scaled several skyscrapers in Dubai, without any problems to get in.
"We walked around in Dubai and looked at random skyscrapers.
We just tried to get up. When there was no access, we moved on to another building. But we were lucky, most of them were unlocked…"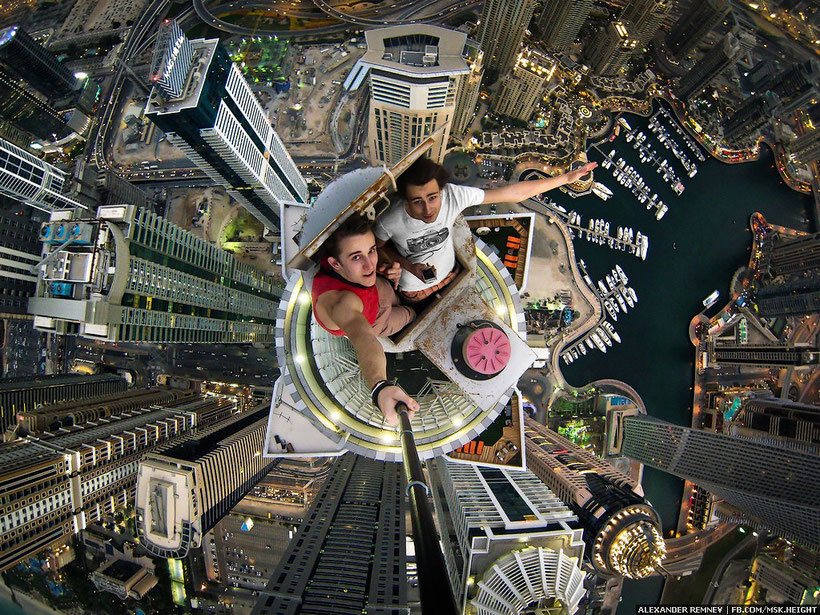 On the very top end of the Torch Tower, one of the world's tallest residential tower and an iconic part of Dubai Marina.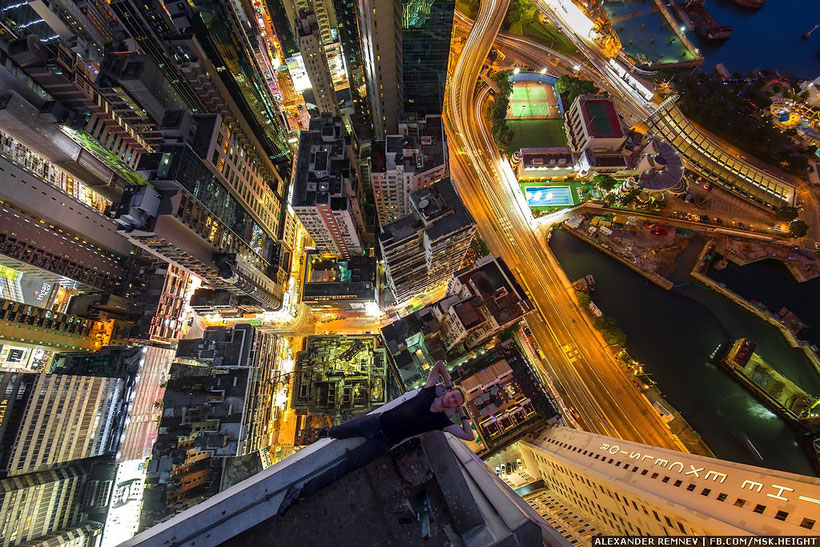 Stunning night view over Hong Kong's bay…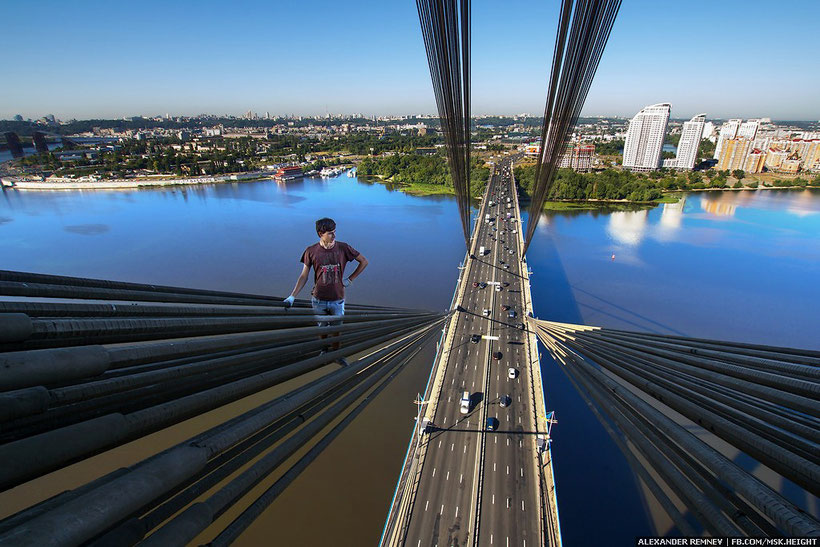 Jaw-dropping: Alexander on his way up to the Moscow Bridge in Kiev, Ukraine.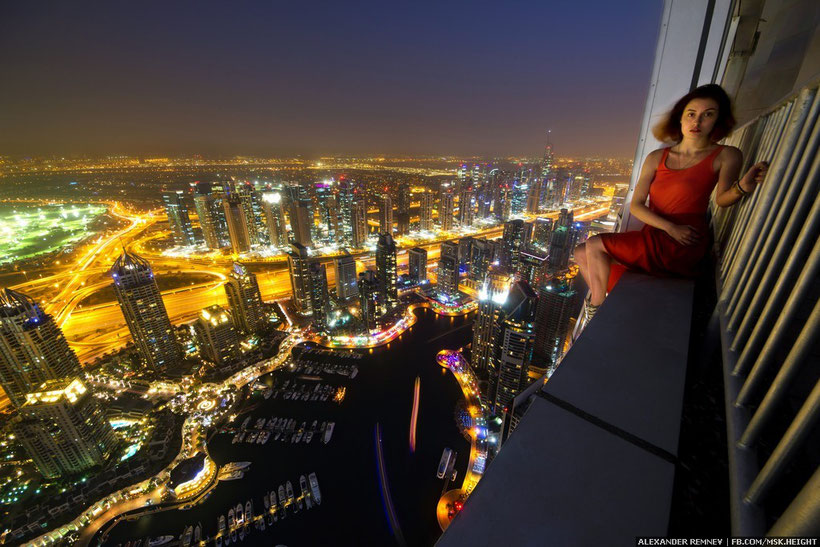 Fearless girl sitting next to the edge of Cayan Tower, showing an amazing night view of Dubai.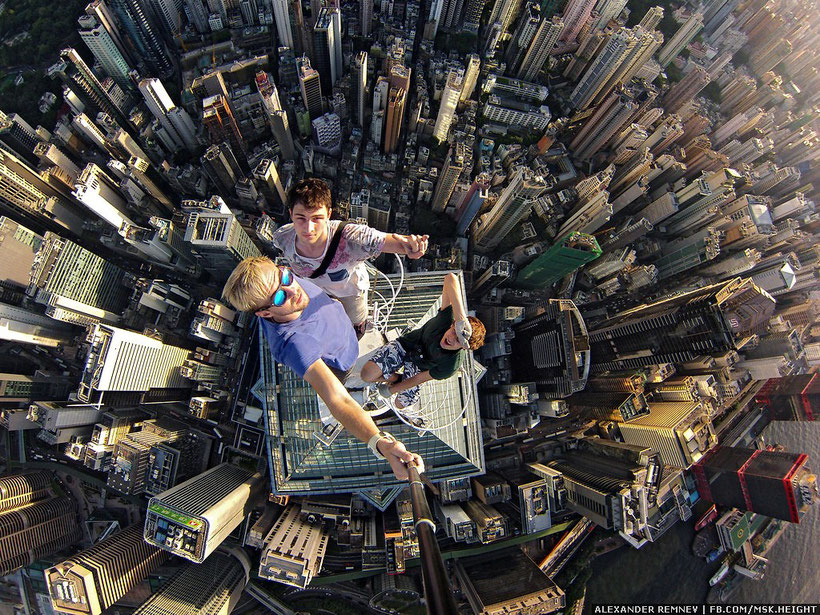 Getting high on The Center, the fifth tallest building in Hong Kong. The skyscraper is completely structured of steel, it comprise 73 stores with a height of 346m (1,135ft.) 
Skywalking became a popular trend in the last years, especially among young Russians. Personally, I get the chills when I look at all those images… The bird's eye views, the city panoramas, the fearless selfies. A quote comes up to my mind that I read a while ago. These guys live up to this, literally. It goes like this: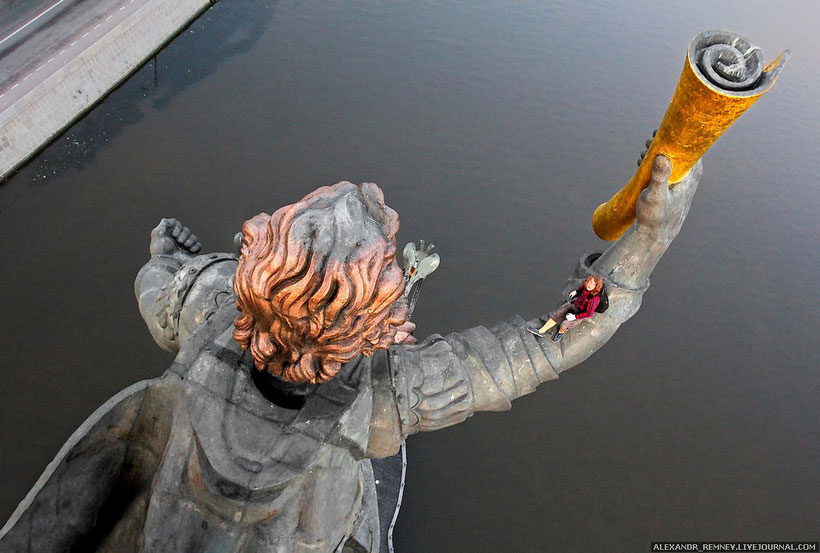 Walking on Peter the Great, a 98m statue in the Vodootvodny Canal in central Moscow, Russia.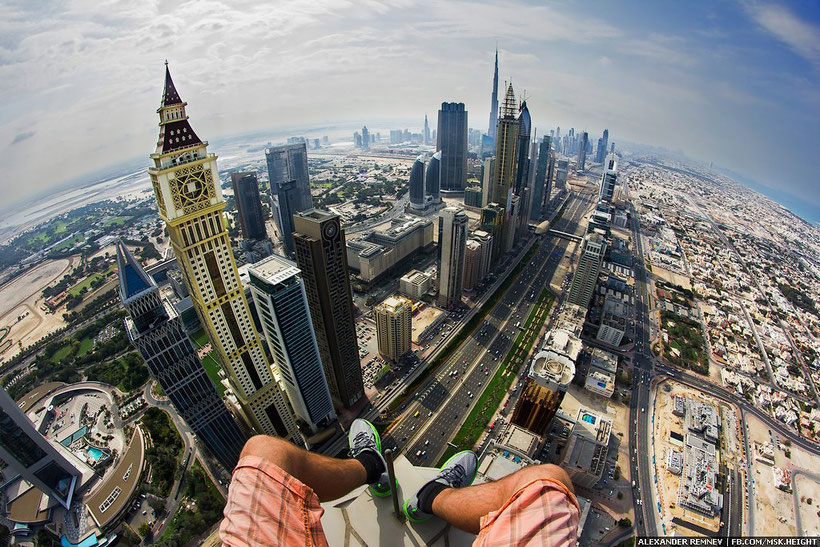 Alexander scaled the Millennium Plaza in Dubai – before getting his GoPro out to take these stomach-churning images of Dubai.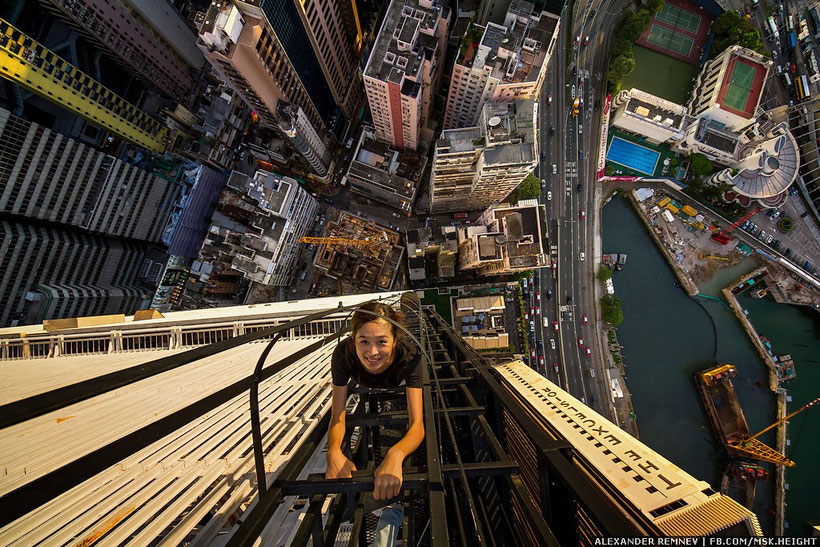 Don't look down! A brave girl in Hong Kong, on her way up to the roof…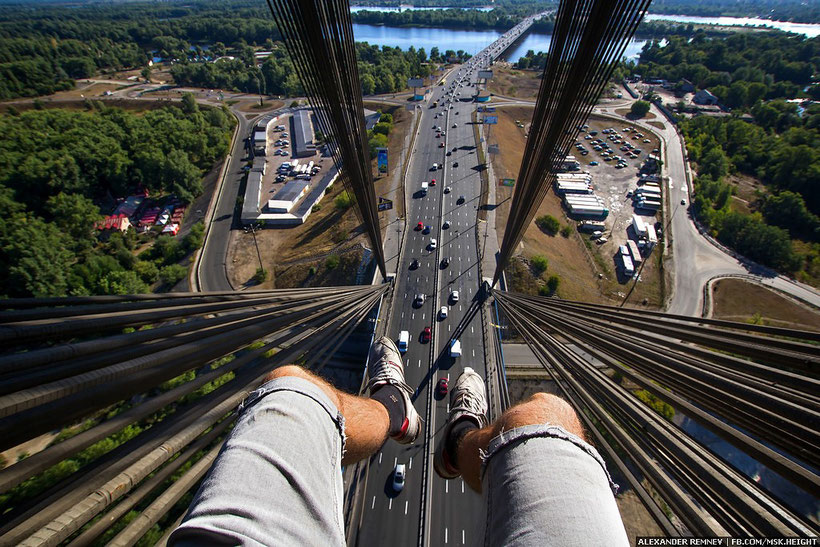 The typical foot selfie, after conquering the Moscow Bridge in Kiev, Ukraine.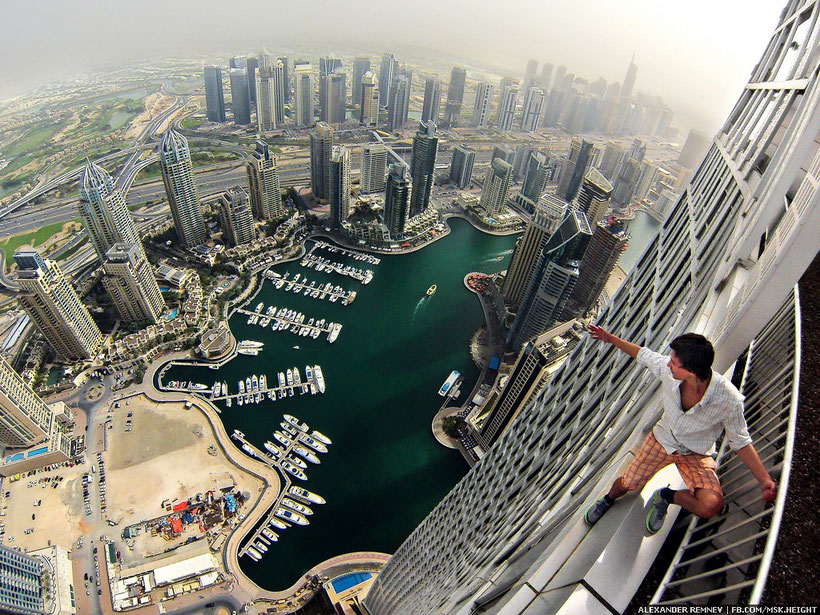 Spectacular panorama of a city full of skyscrapers…Alexander holding on to the Cayan Tower in Dubai…
"In some cases, it's more difficult to climb down than up…"
Alexander says.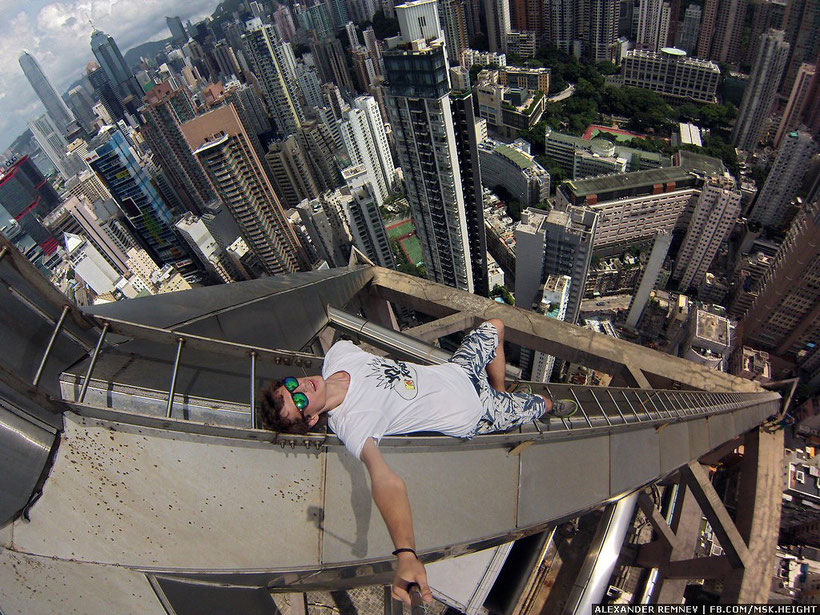 Dangerous thrill: Getting a dizzying selfie over the skyline of Hong Kong.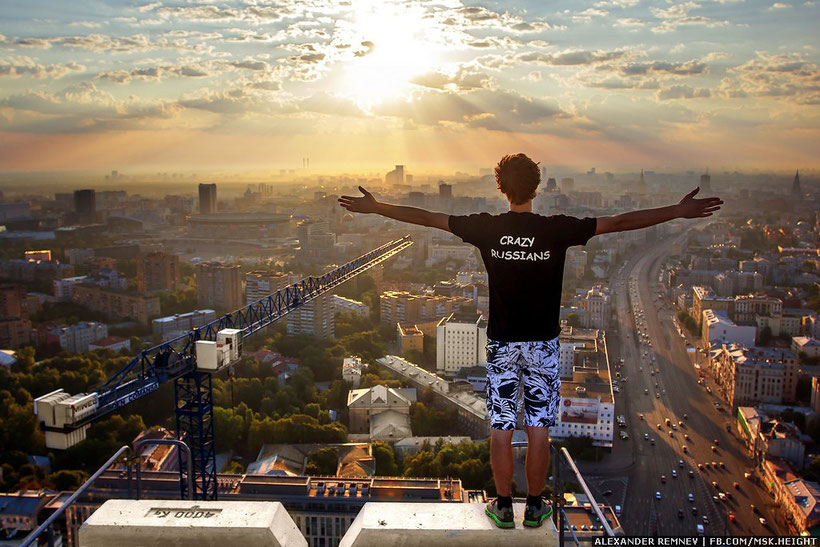 Crazy Russians? We couldn't agree more. But we love his pulse-pounding images.
Skywalker Alexander in his hometown Moscow, Russia.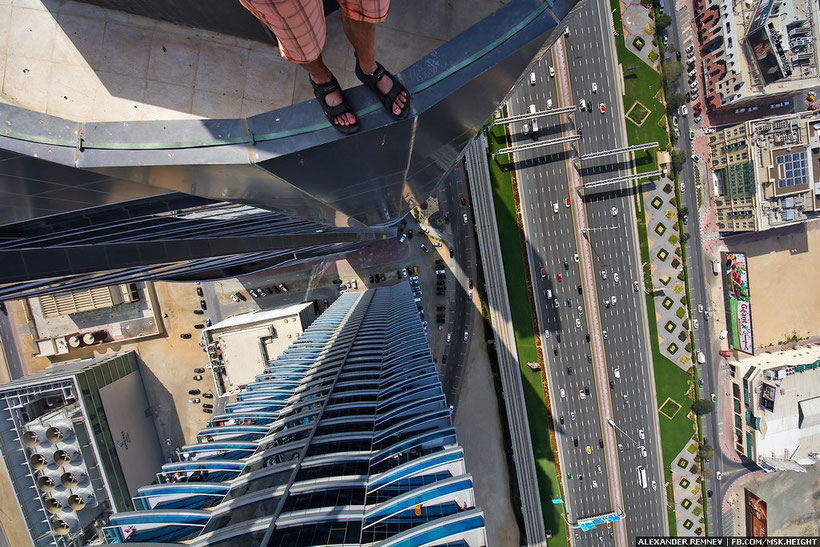 Bird's eye view: Another stunning shot from one of Dubai's skyscraper by daredevil Alexander Remnev.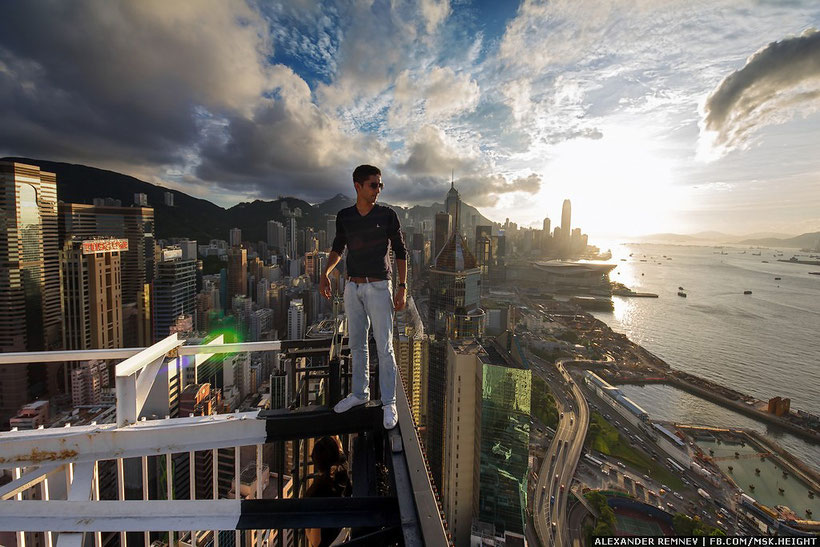 Breathtaking view: Fearless rooftopper standing on highest point of a skyscraper in Hong Kong. 
If you haven't gotten a heart attack yet, of course there is also a heart-pounding video of the climb in Hong Kong…
Be brave, click that play button!
Not sure about you, but I got my full adrenaline fix today. 
Do you think it's worth the risk to scale skyscrapers to get the ultimate selfie? 
If you got addicted to Alexander's images, you should follow him!
Facebook | Instagram | YouTube | 500px
Thank you for reading.
If you like this article, please share.
 
 
 
 
 
 
 
 

 

ABOUT THE AUTHOR

 

Sabrina Iovino is the founder of JustOneWayTicket.com. She's half German, half Italian and has traveled to more than 50 countries around the globe. She feels weird to write about herself in the third person, so she'll switch now. Phew…much better! Let's restart:

Hi, I'm Sab! This is my blog and I write about the things I love. Mostly.

Follow me on Facebook | Twitter | Instagram | Pinterest | Google+ | Youtube

 

 
 
 
 
 
 
Enjoyed this article? Sign up for my Newsletter or follow me on Facebook and get notified about new posts.
https://www.justonewayticket.com/2014/11/05/20-images-that-will-make-your-heart-stop-russian-traveler-climbs-tallest-buildings/